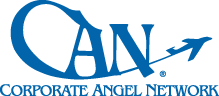 GWAO Charities

Corporate Angel Network is the only charitable organization in the USA whose sole mission is to ease the emotional stress, physical discomfort and financial burden of travel for cancer patients by arranging free flights to treatment centers, using the empty seats on corporate aircraft flying on routine business. Based in White Plains, NY, Corporate Angel Network occupies an office donated by the Westchester County Airport. 50 part-time volunteers and five paid staff work with patients, physicians, corporations, flight departments and leading treatment facilities to arrange 2,500 flights a year.
Eligibility to participate in our program is open to all cancer patients, bone marrow donors, and bone marrow recipients who are ambulatory and not in need of medical support while traveling. Eligibility is not based on financial need, and patients may travel as often as necessary.
Thanks to the generous cooperation of 500 of America's top corporations, including 56 of the top 100 in the Fortune 500, Corporate Angel Network has coordinated more than 25,000 flights since it's founding in 1981. The program offers an obvious and meaningful benefit to cancer patients along with the opportunity for companies with corporate aircraft to provide a wonderful community service by merging business activities with social responsibility.

The VAC provides free air transportation to wounded veterans and their families for medical and other compassionate purposes, through a national network of volunteer aircraft owners and pilots. Our priority is on the veterans of Iraqi Freedom and Enduring Freedom (Afghanistan).
As citizens, we owe an enormous debt to those who have sacrificed for our country. It's a debt that is impossible to repay. But that won't stop us from trying.

Volunteering an aircraft for VAC missions: Many of the plane owners who volunteer with us are also pilots who welcome the opportunity to perform a valuable service while maintaining their proficiency.

Some owners come from military backgrounds themselves; others are seasoned aviators or simply passionate about flying. But they all have one thing in common - the desire to serve those who have served us.
In the interest of safety as well as camaraderie, the VAC encourages two rated pilots to fly together when practical.

Corporate aircraft & fractional ownership aircraft Volunteering the use of a plane is an outstanding way for businesses to demonstrate their patriotism and put available resources to work for a good cause. For companies involved in fractional aircraft ownership programs, it's an excellent use of unused flying hours.
Read about the Veterans Airlift Command in this article from Aviation Week.

www.veteransairlift.org